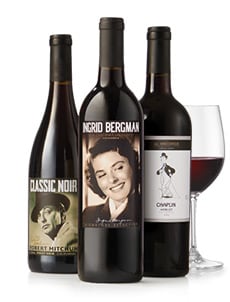 Your 3 Bonus Bottles:
Majestic Ingrid Bergman Cabernet
Charming Charlie Chaplin Merlot
Cool Robert Mitchum Pinot Noir
That's 15 Great Wines (worth $240) for ONLY $79.99
SAVE $160 when you order below
Nothing beats a classic movie and a delicious glass of wine. The TCM Wine Club brings together these two great pleasures. Your introductory collection features 12 expertly selected wines from around the world – including an exclusive Cabernet from the Sonoma estate of Francis Ford Coppola.
As a special welcome, you'll also receive three BONUS classic movie reds (worth $55.97): an irresistible Pinot Noir that pays tribute to Robert Mitchum, iconic anti-hero of 1940s film noir; a charming Merlot honoring silent film legend Charlie Chaplin; and a majestic California Cabernet inspired by Ingrid Bergman, one of cinema's greatest leading ladies.
Just as Turner Classic Movies showcases must-see cinema, the TCM Wine Club curates must-try bottles from outstanding small estates worldwide.
You'll have an exciting new selection reserved for you every three months – with new movie-themed wines in every case, fun new movie-themed wines in every case, for each bottle and a 100% money-back guarantee. See full benefits at right and get started below.
Which Case Would You Like?
Whatever you go for, you'll receive your three collectible bonus bottles – giving you 15 exceptional wines for only $79.99 (plus $19.99 shipping & applicable tax).