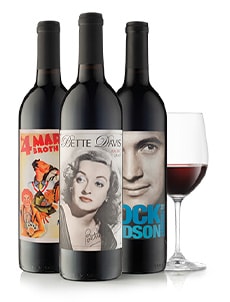 Your 3 Bonus Bottles:
Dashing Cabernet Starring Rock Hudson
A Sultry Malbec Tribute to Bette Davis
The Marx Brother's Smooth Merlot
That's 15 Great Wines (worth $240) for ONLY $79.99
SAVE $160 when you order below
A classic movie and a delicious glass of wine are two of life's great pleasures — something we all need right now. The TCM Wine Club is here to help, with delivery to your door. Your introductory collection features 12 expertly selected wines from around the world — including an exclusive Cabernet from the Sonoma estate of Francis Ford Coppola.
As a special welcome, you'll also receive three BONUS classic movie reds (worth $53.97): a smooth Merlot that pays tribute to the legendary Marx Brothers; a Malbec that's so seductive and sultry, it could only be for Bette Davis; and a brash Cabernet made in the image of Hollywood's most iconic leading man, Rock Hudson.
Just as Turner Classic Movies showcases must-see cinema, the TCM Wine Club curates must-try bottles from outstanding small estates worldwide.
You'll have an exciting new selection reserved for you every three months — with new movie-themed wines in every case and a 100% money-back guarantee. See full benefits at right and get started below.
Which Case Would You Like?
Whatever you go for, you'll receive your three collectible bonus bottles – giving you 15 exceptional wines for only $79.99 (plus $19.99 shipping & applicable tax).