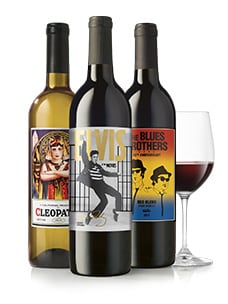 Order Below & Receive
3 Bonus Bottles
Elvis at the Movies Cabernet Sauvignon
Blues Brothers Red
Cleopatra California White
That's 15 Showstopping Wines
(worth $248.85) for ONLY $79.99
SAVE $165 when you order below
Welcome to the TCM Wine Club, the perfect way to marry your love of classic movies with fantastic wines. This introductory collection features a dozen delicious bottles that will transport you from the romance of storied Bordeaux to the dramatic foothills of the Andes.
As an opening credit, you'll also receive three BONUS classic movie wines (worth $58.97): a rich, flavorful Blues Brothers California red to celebrate the movie's 40th anniversary, a king-of-the-reds Cab in honor of Elvis and a seductive top-vintage white that pays tribute to Cleopatra, the original femme fatale.
Just as Turner Classic Movies showcases must-see cinema, the TCM Wine Club provides must-taste bottles from outstanding small estates worldwide.
You'll have an exciting new selection reserved for you every three months—with movie-themed wines in every case, fun movie-pairing suggestions for each bottle and a 100% money-back guarantee. See full benefits at right and get started below.
Which Case Would You Like?
Whatever you go for, you'll receive your three collectible bonus bottles—giving you 15 exceptional wines for only $79.99 (plus $19.99 shipping & applicable tax); please allow 5-10 days for delivery, depending on shipping state).