(Viewing 391 - 400 of 400 Wines)
1
This fresh arrival is ready to ship. Add to cart and be among the first to taste it (and check back later for more details).
2
International Cabernet Stars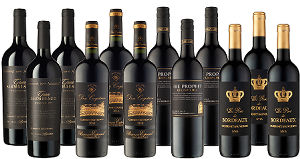 Cabernet is the world's favorite red. It's no wonder winemakers all over the globe compete for a spot at your table. Enjoy some of the finest in our cellars, including a glory-vintage Bordeaux, Aussie blockbuster and more—all just $14.99 a bottle.
3

The Police 2016
"With one breath, with one flow, you will know …" Slip into the edgy, evocative melodies of The Police's Grammy-winning Synchronicity while enjoying an equally harmonious, crowd-pleasing blend of California's richest grapes – Syrah, Merlot, and more.
4

Schroeder Estate Reserve Pinot Noir 2017
The Schroeder family make some of our best-selling Argentine reds, and we can't wait for you to try their elegant Reserve. Crafted with hand-selected Pinot Noir and lightly barrel aged, it sports a history of acclaim and spicy, red-berry flavors.
5

Koffieklip Kop 2019
Rising star Alecia Boshoff is on a mission to buy back her family's vineyards. With Koffieklip Kop, you can support her and enjoy a great red. Made from flavor-boosting old vines and oak aged, it brims with luscious black fruit and toasty mocha.
6

Les Cailloux Dorés Chardonnay 2019
The talented Mark Hoddy found the fruit for this gorgeous French Chardonnay in a special hillside vineyard, where high elevation and brilliant sunshine yield fresh, concentrated flavors. Light oak aging adds hints of honey to the ripe citrus notes.
7

KISS Malbec 2017
Crafted exclusively for our customers, this limited-edition Malbec hails from California's premium Paso Robles and the stellar 2017 vintage. Its luscious berry flavors will make you want to Rock and Roll All Nite – especially when paired with steak.
8

Alto Pina 2018
Crafted by Jaime Quendera (a former winner of the 'Best Red Wine in the World' trophy at Vinalies Internationales), this distinctive red marries three star Portuguese grapes for layers of ripe raspberry, plum, and inviting violet characters.
9

Shadow Slant Chardonnay 2016
Washington State produces a uniquely ripe, intensely flavored style of Chardonnay. This vibrant, orchard-fruited exclusive hails from a prized vineyard in the premium Horse Heaven Hills region. Perfect for summer salads, roasted chicken, and more.
10

Alambrado Pinot Noir 2018
The legendary Zuccardi family craft many of our most popular Argentine wines, so we're thrilled to introduce our first-ever Pinot Noir from them. Crafted with grapes grown in the premium Uco Valley, it brims with vibrant, red-fruit flavors.
(Viewing 391 - 400 of 400 Wines)